Date/Time
Date(s) - 09/30/2017
9:00 am - 3:00 pm
Location
Meet at Florissant Fossil Beds National Monument Visitor Center
Category(ies)
National Public Lands Day 2017
Florissant Fossil Beds National Monument
Trail Stewardship & Community Outreach
Workday: Saturday, September 30, 2017
Project Location: Florissant Fossil Beds National Monument
Difficulty Rating: Easy/Moderate
Project Times: 9am-3pm
Meeting Location:  Meet at Florissant Fossil Beds Visitor Center
Map Link: https://goo.gl/maps/I7RoJ
Workday Description:
The Florissant Fossil Beds National Monument showcases an ancient history very different from today's climate and ecosystems. The Fossil Beds has 14 miles of hiking trails that meander over hills, through valleys, riparian areas and wetlands. Protecting and maintaining these trails is a great way to give back to the public lands we love.
Protecting and maintaining trails protects our watershed from erosion and avoids harming native species. Protecting and maintaining biodiversity by mitigating noxious weeds is a great way to give back to the public lands we love. Tasks will include, but not be limited to; building and maintaining tread, removing hazards from the trail, cutting off the flowers of invasive species, de-rooting invasives, and building water diversions from the trail.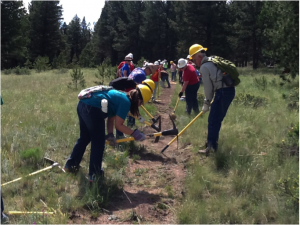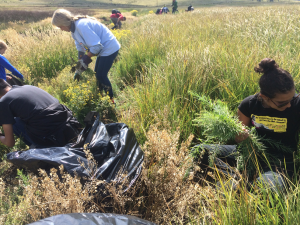 Important Notes:
CUSP will provide hard hats, materials and necessary tools to complete project work

Bathrooms are available at the Fossil Beds visitors center

A safety review and work demonstration will proceed the project work

Weather, which could create hazardous conditions, may cause the project to be canceled or rescheduled; staff will monitor weather and notify you of any changes, which will also be posted to this page
Requirements of Volunteers:
Prior to the project each volunteer must submit a completed Liability Release form, CUSP 2017 Release Form, and for the Florissant Fossil Beds, a Florissant Fossil Beds Volunteer Agreement.
Please print documents on both sides.
Please Bring:
A daypack to carry water and lunch

A refillable water container, we will have Igloos for refills at the site(s)

Any applicable medicines (including epi-pens, insulin and inhalers)

Sunscreen

Sunglasses or safety glasses

Long pants are required and long sleeved shirts are strongly recommended

Work gloves (we will have some if you do not)

Sturdy shoes with good tread; no sandals please

A sack lunch, to carry with you
What to Expect:
These projects will occur in an exposed mountain environment. Please be aware and prepared for potential hazards, including but not limited to: driving on mountainous roads with loose gravel and flash flood potential; exposure to sun, wind, lightning and rapidly changing weather conditions; working with sharpened tools in areas with unstable terrain and footing; hiking at significant elevation. Medications may have adverse effects in sun, heat or altitude; please list medications and medical conditions on the CUSP release form so staff may be aware of potential concerns. Know your limitations and inform staff immediately if you become ill or injured. Be prepared to exit quickly in the event of an emergency or changing environmental conditions.  Please be prepared to hike at high elevation in varying weather conditions. Drinking water prior to your arrival will aid in the oxygenation of your blood, making you less prone to altitude sickness. Please drink plenty of water prior to and during the project to stay hydrated.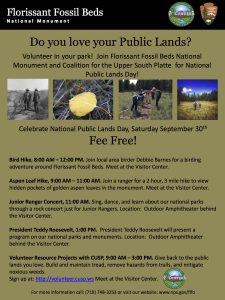 GPS systems and Internet map sites are often misleading in the mountains. Cell phone service will be inconsistent or unavailable.
The below office number can be contacted in case of emergency.
The Coalition for the Upper South Platte
Post Office Box 726
Lake George, Colorado 80827
719.748.0033
Bookings
Bookings are closed for this event.