Date/Time
Date(s) - 01/25/2017 - 12/31/2017
All Day
Location
Coalition for the Upper South Platte
Category(ies)
Coalition for the Upper South Platte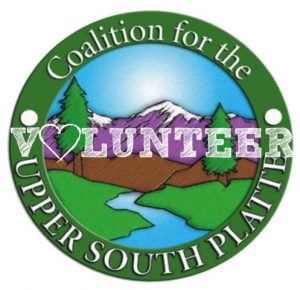 Volunteer Executive Committee
Roles & Responsibilities
Contact Rachel@CUSP.ws for more information
Volunteer Category: CUSP Volunteer Executive Committee
Areas of Investment: The Executive Committee helps to set the annual calendar of fundraising & outreach events and goals for CUSP. Commitment to advancing CUSP's mission by developing a strong organization through special events, donor cultivation, oversight, leadership and community involvement. Members work closely with CUSP staff.
Commitment Expectation: Help identify funding needs, challenges and funding opportunities.
Engage in one special event or campaign each year and Chair/Co-Chair or participate in a CUSP Events Committee.
Available for monthly committee meetings as well as sub-committee and/or event committee meetings. Monthly time commitment can range from several hours a month to several hours a week.
Qualifications:
• Sincere desire to help advance the mission and capacity of CUSP
• Ability to work closely with a variety of community members
• Strong listening, problem solving, and organizational skills
• Good community connections and willingness to reach out and engage
• Ability to attend fundraising events, and to Chair an event committee
• Practical problem-solving skills and ability to suggest options and alternatives; and
Responsibilities:
• Regularly attends committee meetings and important related meetings
• Helps develop a Strategic Plan for fundraising and community outreach
• Brings effective skill sets and varied talents to be used in a range of tasks
• Stays informed about committee matters & participates in planning and evaluation efforts
• Gets to know CUSP staff, board, and other committee members
• Foster collegial working relationships & contribute to group consensus
• To be a CUSP ambassador to the community
CUSP Executive Committee Roles & Responsibilities
Mission: To protect the water quality and ecological health of the Upper South Platte Watershed, through cooperative efforts of watershed stakeholders, with emphasis placed on community values and economic sustainability.
Bookings
Bookings are closed for this event.