Map Unavailable
Date/Time
Date(s) - 05/28/2020
9:30 am - 3:00 pm
Category(ies)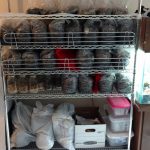 This event is for crew on the BAG Spawn inoculation for the Denver Botanic Gardens fungal degradation demonstration. This event is considered a skilled activity, but if selected, we will train you if you have limited experience in a tissue lab setting. This will be a sterile tissue culture activity, and all volunteers are subject to approval. The sterile technique protocols will minimize vectors for CoronaVirus, but IF YOU ARE ILL DO NOT COME. Please call beforehand and cancel, there will be other opportunities.
Protocols:
Assume you are performing surgery. Shower directly before arriving. Use No perfumes, colognes or antiperspirants. Wear freshly laundered clothes- short sleeves. Put a second set of freshly laundered clothes over what you will wear while tissue culturing. They will have changing facilities if you just want to bring a second set. I wear scrubs, if you. for some fashion reason have a set, they are of course perfect. No jewelry or piercings that would cause direct contact or rubbing with skin. No watches, rings etc.
I have head coverings, face masks and hypo-allergenic gloves in Medium and Large.
Eat before you arrive and plan on not eating until we're done. We will scrub before and during the process. We have 4 separate species to work with and won't share any gloves or tools between them.
This event will take place at the Mile High Fungi Mushroom farm. We will be meeting at 9:30 am at the Staples Parking lot in Conifer, CO.  https://goo.gl/maps/1yaH52HSANVyLQ4y7\
We will meet and carpool. Parking is limited at the farm, and need for volunteers is also limited. You will be contacted if you are approved for this event. Don't be discouraged, there will be other events where more people will be needed. This is a final spawn run of 100-125 bags and 4-5 species.
You MUST fill out a CUSP volunteer release form prior to attending your first event, Find It Here:https://volunteer.cusp.ws/wp-content/uploads/2019/09/CUSP_Vol_ReleaseForm.pdf
The Coalition for the Upper South Platte (CUSP) is five years into studying the use of native wood-rotting mushrooms to convert woody biomass into a compost material that closely resembles natural humus. The process requires no admixture of organic materials and produces essentially zero methane (CH3) a greenhouse gas that is up to 20 times more detrimental to the atmosphere than Carbon Dioxide (per molecule).  The Carbon content of the mushroom compost is still under study, but appears to be up to twice the ratio found in standard microbial produced compost. This suggests the potential for carbon sequestration within a natural process. It is hoped that these techniques will lead to new and unique methods of processes waste forest slash and post-fire landscape restoration.
Bookings
Bookings are closed for this event.