Map Unavailable
Date/Time
Date(s) - 05/01/2017 - 06/30/2017
12:00 am
Category(ies)
PRIORITY AREAS, TO BE COMPLETED BY JULY 1,2017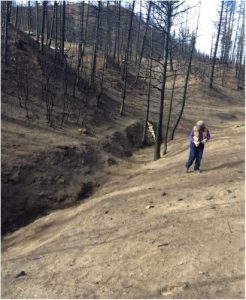 To protect homes and community water supplies, flood mitigation is priority for the coming months. Pictured is the bare landscape leftover from the Junkins Fire (North Creek area). Stabilizing these slopes will reduce debris flow into surrounding creeks and water supplies, as well as mitigate flood impact for dwellings and wells down slope.
We are working with Coalitions & Collaboratives, Inc. every other week (or more) to complete these tasks.
Please contact Rachel@cusp.ws to inquire about week dates & additional weekends.
Friday & Saturdays –
May 5 & 6, 19 & 20
June 2 & 3, 16 & 17, 23 & 24
We have open dates during the week & some other weekend, please contact us to inquire!
Beulah Hill Fire Priorities:
Flood Mitigation
Location: About 15 miles west of Pueblo, our goal is to reduce flood impact as well as debris flow into the St. Charles River. When the rain comes, we want to make sure that the river can capture most or all of it, in attempt to reduce flood impacts.
Needs: install sandbags; debris cleanup; install wattles; seeding
Junkins Fire Priorities:
Flood Mitigation, North Creek
Location: About 30 miles west of Pueblo, some homes which are upslope from the St. Charles River and community water supplies are in need of flood mitigation. We will mitigate flood impacts by cleaning out debris and installing sandbags.
Needs: debris removal; install sandbags; seeding
Flood Mitigation, Hard Scrabble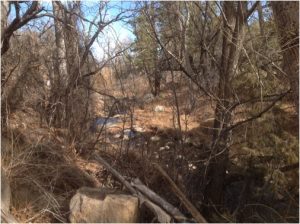 Location: Wetmore, CO is in need of cleanup to create a better flow into the water supply while reducing debris.
Needs: creek cleanup; debris removal
Rehabilitation; Hayden Pass
Location: About 2 miles south of Coaldale, CO, multiple sites are in need of cleanup by removing damaging debris in flood-prone drainages. We will also be rehabilitating sites after heavy equipment work comes through.
Needs: creek cleanup; debris removal; seeding
Background:
The 2016 fire season in the Arkansas River Watershed, central and southeastern Colorado, was significantly dry with multiple large-scale fires. Forest fuels that had been decimated by insects and disease provided dangerously dry fuels for over 40,000 burned acres.  This watershed contains fire-adapted ecosystems; a significant portion of the fires will allow for greater species diversity and a healthier landscape long term.  However, this season's series of fires resulted in compounding issues for numerous rural communities. The cumulative fires burned at mostly moderate to high burn severity, and without appreciable vegetation these areas will not absorb the usual amounts of moisture from snow and rain for several years.  Multiple hazards have been identified and include the potential loss of lives, homes and infrastructure. Treatments include erosion control barriers and fabric, stream cleanup, and flood mitigation in the form of seeding and installing sandbags.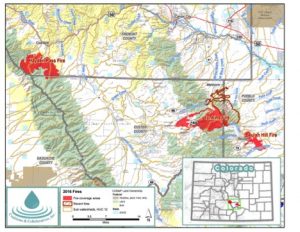 About the Beulah Hill Fire
The Beulah Hill Fire began October 3, 2016 southwest of Pueblo, Colorado and burned 5,312 acres in Pueblo County. It was declared out on October 23, 2016.  The cause of the fire was a spark caused by heavy equipment removing culvert debris, which spread quickly due to unseasonably dry conditions on slopes above homes, toward critical infrastructure.  Eight homes and six outbuildings were destroyed. Burn severity was moderate to high; an inter-agency assessment has not been completed, as it burned exclusively on private lands.
Due to post-fire conditions, convergence of two flood prone drainages and multiple fires, the impacts will be compounded: many homes and nearly all critical infrastructure in Beulah are in the direct path of imminent flooding and debris flow.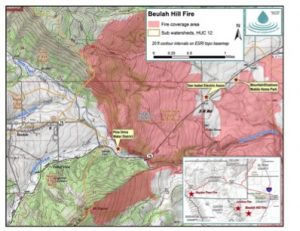 About the Junkins Fire
The Junkins Fire was ignited on October 17th, 2016 by a fallen power line during a high wind event. Junkins was declared contained on November 5, 2016 and burned approximately 18,403 acres with 55.7% burning on the San Carlos Ranger District of the San Isabel National Forest, 42% on private property, 1.6% on State of Colorado land, and 0.7% on BLM. It burned within several sub-watersheds of the Upper Arkansas watershed within the Wet Mountain Range between the towns of Westcliffe and Wetmore, Colorado. The fire burned primarily in Custer County, with a small portion in Pueblo County.  The area is characterized by moderately steep to very steep, rocky, mountainous basins. The fire destroyed nine homes and 17 outbuildings.
The community of Beulah has great potential to be severely impacted from the Junkins Fire.  Issues will likely be compounded by prior wildfires, including the Beulah Hill Fire (2016) and the Mason Fire (2005). There are major hazard risks due to debris flows, rock fall, tree fall, landslides, road washouts and entrapment.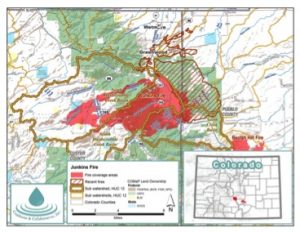 Bookings
Bookings are closed for this event.